Family Cookbook
Moppets Preschool Picnic Cake
source
Mrs. Hales Preschool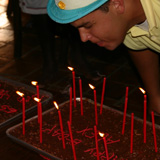 This was the required birthday cake at Mrs. Hales. It is still a favorite Mitchell birthday cake and is large enough for lots of decorating. We often have each guest sign it. Use large cake pan...18x14 or 17x11.
Required Ingredients
2
Cup
Sugar
2
Cup
Flour
2
Stick
Margarine (I have substituted butter)
4
Tablespoon
Cocoa (great with Ghirardelli)
1
Cup
Water
½
Cup
Crisco
½
Cup
Buttermilk or milk soured with 1 teaspoon lemon juice
2
Eggs slightly beaten
1
Teaspoon
Soda
1
Teaspoon
Vanilla

Frosting:
1
Stick
Margarine
4
Tablespoon
Cocoa
6
Tablespoon
Milk
1
Teaspoon
Vanilla
1
Cup
Chopped pecans (if desired)
1
Pound
Powdered sugar sifted
Decoration:
Tube
Icing with tips (from baking section at most markets)
Preparation Instructions
Sift/mix together the flour and sugar.
In a saucepan boil for a minute or two the margarine, cocoa, water and crisco and add to the dry ingredients above.
Gently beat together the eggs, buttermilk, soda and vanilla and add to the above. Mix well. This makes a thin batter. Pour into the cake pan and tip to distribute evenly.
Bake 20 to 40 minutes in a 400 degree oven depending on pan size. Do not let it dry out around the edges.
About 5 minutes before cake is done make the frosting. Bring to boil in a saucepan the margarine, cocoa and milk. Stir in the vanilla, pecans and sifted powdered sugar.
Remove cake from oven and immediately pour frosting over warm cake. Spread evenly. Cool before decorating.
Have fun and make the cake special to the occasion!