Family Cookbook
source
originally Sunset - modified by Mitchell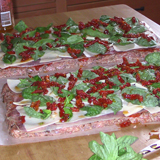 The original recipe calls for 1½#s ground chuck and ½# sausage; however with the Mitchell freezer full of game it has been modified to use wild elk and the appropriate seasonings. It is wonderful served with Roasted Tomato Spaghetti, a green salad, and a nice crusty bread. Feeds about 8.
Required Ingredients
1
Ounce
Dried Porcini Mushrooms
1
Tablespoon
Olive Oil
1
Large Red Onion Chopped
1 ¼
Cup
Shredded French Bread (crumbs)
1 ½
Pound
Lean Ground Elk (or beef)
½
Pound
Mild Sausage
2
Eggs (large)
2
Teaspoon
Chopped Garlic
⅓
Cup
Chopped Parsley
¾
Cup
Grated Parmesan Cheese
1
Tablespoon
Wildeats Seasoning (includes pepper, salt, juniper berries etc)

Filling:
¼
Pound
Thinly Sliced Prosciutto
½
Pound
Thinly Sliced Fontina Cheese
1
Cup
Sun Dried Tomato Spread
1
Bunch
Fresh Basil Leaves
½
Cup
Chopped Sun Dried Tomatoes (packed in oil, drained)
Preparation Instructions
Soak mushrooms in ¾ cup of hot water until soft (about 20 minutes) and squeese out juice. Reserve ¼ cup juice and chop the mushrooms. (I find it easier to chop the mushrooms dry before soaking...or just put in the chopped dry mushrooms and add a bit of red wine for the liquid.)
Chop the red onion and saute in the olive oil until soft...10 to 12 minutes. Set aside to cool slightly.
In blender or food processor, whirl enough sour dough bread slices to make about 1¼ cups crumbs (or cheat and use packaged bread crumbs...not as good though).
In large bowl lightly beat the eggs and then add ground meat, sausage (removed from casings), mushrooms and reserved liquid, bread crumbs, sauted onion, garlic, parsley, cheese,and seasonings. Mix well.
On a large sheet of baking parchment or waxed paper, pat meat mixture into a 10x15 inch rectangle.
Cover meat with fillings to within about an inch of the edges. I start by spreading on the sun-dried tomato paste, then layer on the procuitto, then the cheese, and top with basil leaves and juillened sun-dried tomatoes drained from their oil.
Using the paper to help lift the meat, lift the narrow end nearest to you and slowly roll away to form a cylinder with the fillings encased in the meat. Keep rolling until the seam is down.
Using two large spatulas, transfer the roll to a roasting pan and bake at 350° for about 1¼ or until well browned on top. Using spatulas again, carefully transfer to a platter for serving. Cut into slices across the cylinder. Can be eaten hot or chill until the next day and serve cold.