Family Cookbook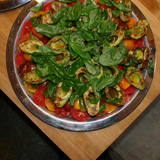 Again, Michael made this at our Fallen Leaf cabin (for a wedding dinner for 90 guests) and it became and instant favorite. I like them best over a platter of mixed heirloom tomatoes on a bed a baby greens topped with fresh basil...but any tomatoes will do.
Required Ingredients
| | | |
| --- | --- | --- |
| 4 | | Avacados(barely ripe), halved, pitted and peeled |
| 2 | Tablespoon | Olive Oil |
| 1 | | Large lemon juiced (or two small lemons) |
| | | Finely ground sea salt |
| | | Freshly ground black pepper (I have used mixed peppers and like the look) |
Preparation Instructions
Gently toss the prepared avacado halves in a mixture of the olive oil and the juice from the lemon. Season to taste with the salt and pepper. Keep halves WELL CHILLED until ready to grill.
When ready to serve, place the avacado halves, cut side down, on a pre-heated grill and grill until well caramelized, 30 to 45 seconds. Remove and place cut side up on a platter of fresh-sliced tomatoes. Do not grill on the second side.
Top with fresh basil and drizzle the entire salad with a favorite dressing.