Family Cookbook
Roasted Potatoes with Parsley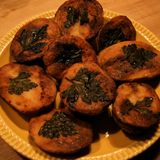 Can also be made with sweet potatoes and with rosemary....
Required Ingredients
| | | |
| --- | --- | --- |
| 12 | | small russet potatoes |
| 1 | Bunch | flat leafed parsley |
| 1 | Stick | butter |
| | Teaspoon | salt |
Preparation Instructions
Preheat oven to 425 deg
Split each potato in half the long way and lightly salt each cut surface
Melt butter in clear bottomed glass pans watching carefully not to burn butter (the surface of the pan bottoms should be large enough to put each potato half down flat without touching other potatoes)
Dip the cut side of each potato half in the melted butter and press one parsley leaf into the butter flattening carefully and place the half cut side down in the glass pan.
Note: the purpose of using glass is that you can hold the pan up and see that the pieces of parsley have stayed flat. If not, remove and reposition.
Roast in oven until the cut surfaces are nicely browned and the potato is done...about 45 minutes.