Family Cookbook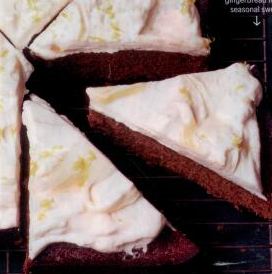 Is wonderful if cooked just until done... Fresh ginger makes it moist, but it is very easy to overcook, check often
Required Ingredients
| | | |
| --- | --- | --- |
| | | Cake |
| 1 ½ | Cup | all purpose flour |
| 1 | Teaspoon | ground ginger |
| ¾ | Teaspoon | ground cinnamon |
| ¾ | Teaspoon | kosher salt |
| ½ | Teaspoon | baking powder |
| ½ | Teaspoon | baking soda |
| 1 | Stick | unsalted butter cut in 1/2 in pieces |
| ½ | Cup | packed light br sugar |
| ½ | Cup | mild molasses (not dark) |
| 1 | | large egg beaten to blend |
| 2 | Teaspoon | grated peeled ginger (or more) |
| | | Topping |
| 1 | Cup | chilled heavy cream |
| 1 | Tablespoon | powdered sugar |
| ¼ | Cup | store-bought lemon curd |
| | | lemon zest |
Preparation Instructions
Preheat over to 350 deg and coat and 8x8 pan with nonstick spray. Line bottom of pan with parchment paper and spray paper.
Whisk flour and next 5 ingredients in a medium bowl.
Place butter in a large bowl and pour 1/2 cup boiling water over butter chunks. Whisk until melted.
Whisk in sugar and next 3 ingredients. Add dry ingredients. Whisk to blend. Transfer to prepared pan.
Bake until a tester inserted into center of cake comes out clean, about 25 minutes. Invert onto a wire rack; let cool and remove parchment. Careful not to overcook.
For Topping beat cream and sugar in a medium bowl until firm peaks form. Fold in curd, leaving swirls. Spread over cake and garnish with zest.