Family Cookbook
source
Old Sunset Magazine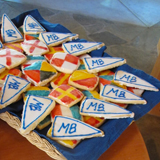 Jane made these in the shape of footballs for Pop Warner, in the shape of baseballs for Little League or water polo, and in squares for an art party. They were always a hit. Note: must be made ahead to dry for 8-24 hours before painting. Makes about a dozen 6-inch cookies.
Required Ingredients
| | | |
| --- | --- | --- |
| 2 | Cup | butter softened to room temperature (one pound) |
| 2 | Cup | granulated sugar |
| 2 | Teaspoon | vanilla |
| 5 | Cup | all purpose flour |
| | | for frosting/glaze |
| 1 | Pound | or up to 1.5 pounds powdered sugar |
| 6 | Tablespoon | or more warm water |
Preparation Instructions
In large bowl of electric mixer beat butter, granulated sugar and vanilla until creamy. Beat in flour until thoroughly combined.
With stockinet-covered rolling pin roll out enough dough on an ungreased, unrimmed baking sheet to cover sheet in a 1/4 to 3/8 in layer.
Cut shapes with large floured cutters (coffee can with top and bottom removed makes a great baseball or soccer ball) leaving at least 1 inch between cookies and remove trimmings.
Bake in 300 deg oven until pale gold and centers are firm to the touch...25-30 minutes.
While cookies are baking make glaze by adding water to powdered sugar (about 6 tablespoons per pound). Mixture should flow smoothly by set quickly.
When cookies are done, remove from oven. Let cool on baking sheet until just warm to the touch (about 7 minutes)
With wide spatula transfer cookies to a flat foil-covered surface and quickly spread with enough glaze to make a very smooth surgace. Do not cover or move cookies until glaze is dry to the touch (8-24 hours)
Paint with food colors.